Take a look at who I am and what I have done
So far.
Born in Caracas, lived in Madeira Island and now London... What's next ?
I'm looking for a position in a company that can offer support, and help me grow in the industry.
Interested? Let's chat...
Let me give you a brief Introduction about, ME.
I just finished a 12 week Web Development Immersive before that I have always been in contact with people either in catering or helping out in schools.
I have previously worked in Heathrow Airport looking after VIP's and after that I opened a restaurant here in London. Both jobs have taught me a lot about people and how to help a company grow.
Now I embarked on a very challenging journey, not in search of the ring that could rule them all, but to learn coding with General Assembly. A rewarding challenge, and now look forward to learning more.
When I am not coding or searching for the meaning of life, I like to go to Museums, take Photographs around London, or cook at home for family or friends, of course always with a glass of wine by my side.
The Course at General Assembly
I had been looking for a new path in my journey of life, when a friend mentioned GA.
I attended an Info session, with some of the previous students and teachers that gave us details of what was in store. Once I had gone through interviews and done some of the work required, I was ready and set to tread in new territory. My real challenge was learning to learn again.
What coding Languages did we work with?
As I had never coded before, and had basic knowledge in CSS3 and HTML5, everything looked scary.
We worked with Ruby and Sinatra, not the "New york, New york" we all know. There was Ruby on Rails, Javascript, SQL, PostgreSQL, JQuery, Json, Jekyll, AngularJS, AJAX and Heroku to name a few.The best part of all? That there's soo much more I want to learn.
Feelings and emotions after the 12 weeks...
It has been very hard and rewarding. There were days that I couldn't see the light but, with the help of teachers and fellow students it all became clear.
Is the Course with GA worth it? My honest answer is YES. You learn coding languages, and get a feel of what is it like to work as a team and be part of something great.
Take a look at some of the Projects I completed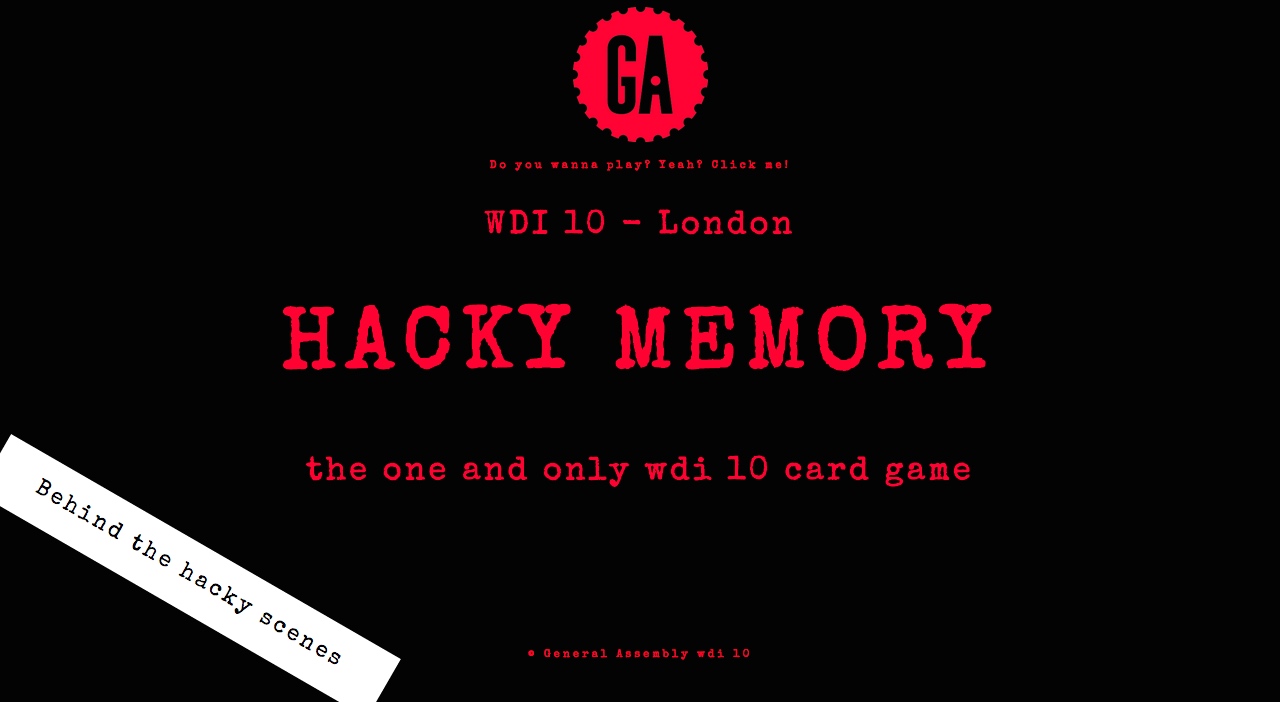 24 hours to work on a project as part of a group. What would the outcome be? Because we wanted to do something interesting, and fun for the whole class to enjoy, we constructed a memory card game. Match the face of student or teacher to their catch phrase. Also the extra showreel of 'making off' is a bonus. Will u find it?
You never stop learning
Ready to learn and grow with other coders.